COVID-19 Guidelines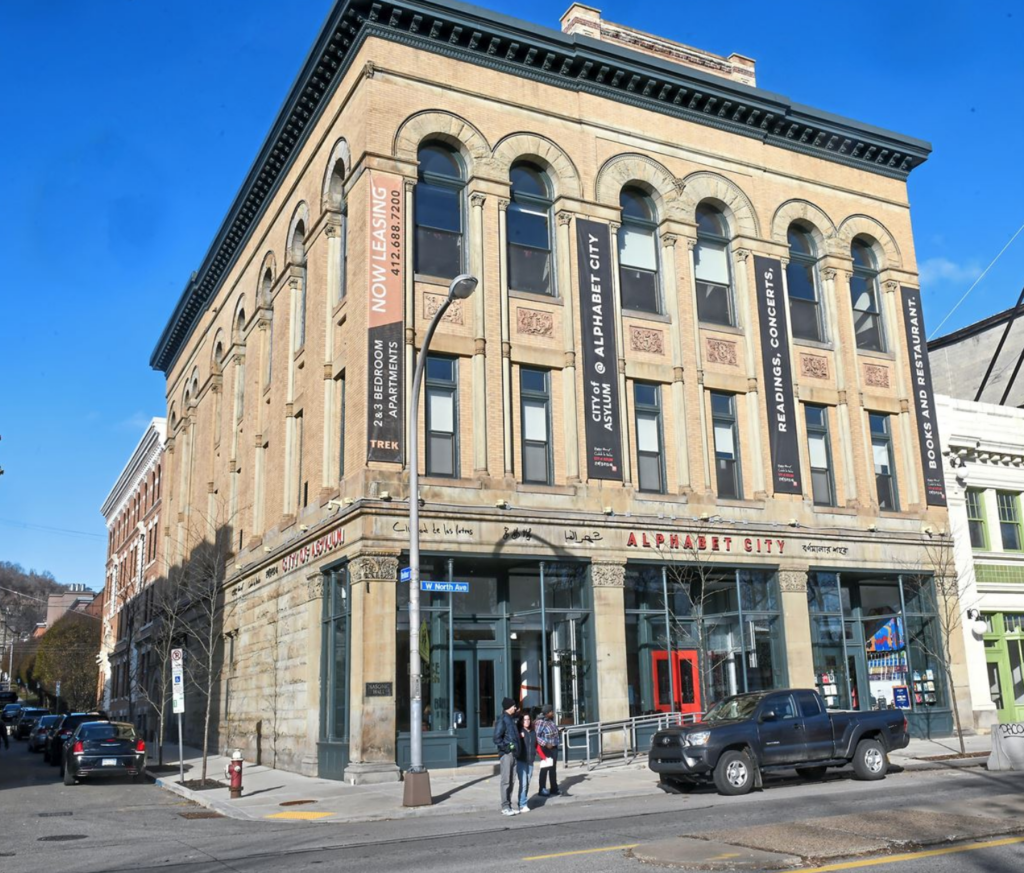 ---
COVID-19 guidelines for programs at Alphabet City
Up to date as of September 1st, 2022
Proof of vaccination is no longer required.
Use of masks during programs will be encouraged but optional if the COVID-19 community level is low or medium in Allegheny County, as determined by the CDC.
Use of masks will be mandatory if the COVID-19 community level is high in Allegheny County.
We will continue to be a mask-friendly environment and encourage people to use masks.
The HVAC system at Alphabet City has been upgraded with the addition of MERV-13 filters and an ionization bar.
What if I'm wary to come in person? What if I don't live in Pittsburgh?
No problem! All programs will be live-streamed through our virtual programming channel City of Asylum @ Home.
Learn more and register to attend in-person or to watch online!
---
---
City of Asylum @ Alphabet City is a permanent home for City of Asylum programming and the arts. In addition, City of Asylum @ Alphabet City includes our offices and the City of Asylum Bookstore featuring works in translation.
City of Asylum @ Alphabet City is a hub for Pittsburgh's readers and writers, jazz and small-scale music and performance, and artistic experimentation. It is a home for diverse voices from around the globe—a place where Pittsburgh meets the world and the world meets Pittsburgh. And it is also a home for many partnering artists and organizations in our own community.
By establishing a safe haven for writers and artists who voice ideas that are new, different, or provocative in a diverse urban community, we encourage new lines of communication, cultural exchange, and collaboration. Sharing one another's narratives can transform the lives of both residents and artists and combat intolerance and exclusion.
The issue of artistic freedom is crucial to any nation. It is not 'just' about the artists' rights to express themselves freely, it is also a question of the rights of citizens to access artistic expressions and take part in cultural life — and thus one of the key issues for democracy.

— Ole Reitov, Executive Director Freemuse
---
---
Other FAQs
Is there parking available?
Safe and convenient parking for City of Asylum @ Alphabet City (40 W. North Avenue) is available at the Federal North Garage (1231 Federal Street) located on Federal Street one block behind Alphabet City.
Federal North Garage rates:
2 Hours – $5.00
4 Hours – $6.00
24 Hours – $7.00
Is the building accessible?
At City of Asylum, we want our events to be welcoming and accessible to all people. In an effort to make our programs as inclusive as possible, we wish to make accommodations that allow people of all abilities to fully participate in our events. If you are in need of wheelchair-accessible parking or other accommodations, please contact our Accessibility Coordinator at accessibility@cityofasylum.org or 412-435-1110.
Restrooms are accesible and there are ramps at the entry of the building.
Is there public transportation to your building?
Travel to City of Asylum @ Alphabet City is easy by bike or by bus!
Bicycles
Find the best bicycle route to 40 W. North Ave by checking out Bike Pittsburgh's interactive map here.
Need a ride? We are right near a Healthy Ride Pittsburgh station. Pick up or drop off your Healthy Ride bicycle at the corner of Federal & North Avenue, just a block away from City of Asylum @ Alphabet City. You can find the full list of Health Ride bicycle stations here.
Bus Routes
From the East end:
From various points in East End, catch 54C or 54D to North Ave at Federal St, walk 1 Min to W. North Avenue – Pittsburgh, PA 15212
or…
P1 EAST BUSWAY to Downtown: then proceed to get on 16 BRIGHTON TO AVALON LOOP, Bus Stop: Liberty Ave at 6th St. Get off at the stop W. North Ave at Reddour St. directly in front of our facility, 40 W. North Avenue – Pittsburgh, PA 15212
From Downtown:
8 PERRYSVILLE TO WEST VIEW: Bus stop: 7th St at Penn Ave, Get off at North Ave. at Federal St., Walk to 40 W. North Avenue – Pittsburgh, PA 15212
or…
16 BRIGHTON TO AVALON LOOP: Bus Stop: Liberty Ave at 6th St, Get off at the stopW. North Ave at Reddour St. directly in front of our facility, 40 W. North Avenue – Pittsburgh, PA 15212
or…
13 BELLEVUE TO WEST VIEW: Bus Stop: Liberty Ave at 6th St, Get off at the stopW. North Ave at Reddour St. directly in front of our facility, 40 W. North Avenue – Pittsburgh, PA 15212
From the North Hills:
From North Hills: 12 MCKNIGHT ROAD: Get off downtown at the Bus Stop: Liberty Ave at 7th St, then proceed to get on 16 BRIGHTON TO AVALON LOOP, Bus Stop: Liberty Ave at 6th St. Get off at the stopW. North Ave at Reddour St. directly in front of our facility, 40 W. North Avenue – Pittsburgh, PA 15212
From the Southside:
From various points in Southside, catch 54C or 54D to North Ave at Federal St, walk 1 Min to W. North Avenue – Pittsburgh, PA 15212
or…
48 ARLINGTON: Get off downtown at Sixth Ave at Smithfield St, then proceed to get on any northside bus such as: 16 BRIGHTON TO AVALON LOOP: Bus Stop: Liberty Ave at 6th St, Get off at W. North Ave at Reddour St. directly in front of our facility, 40 W. North Avenue – Pittsburgh, PA 15212