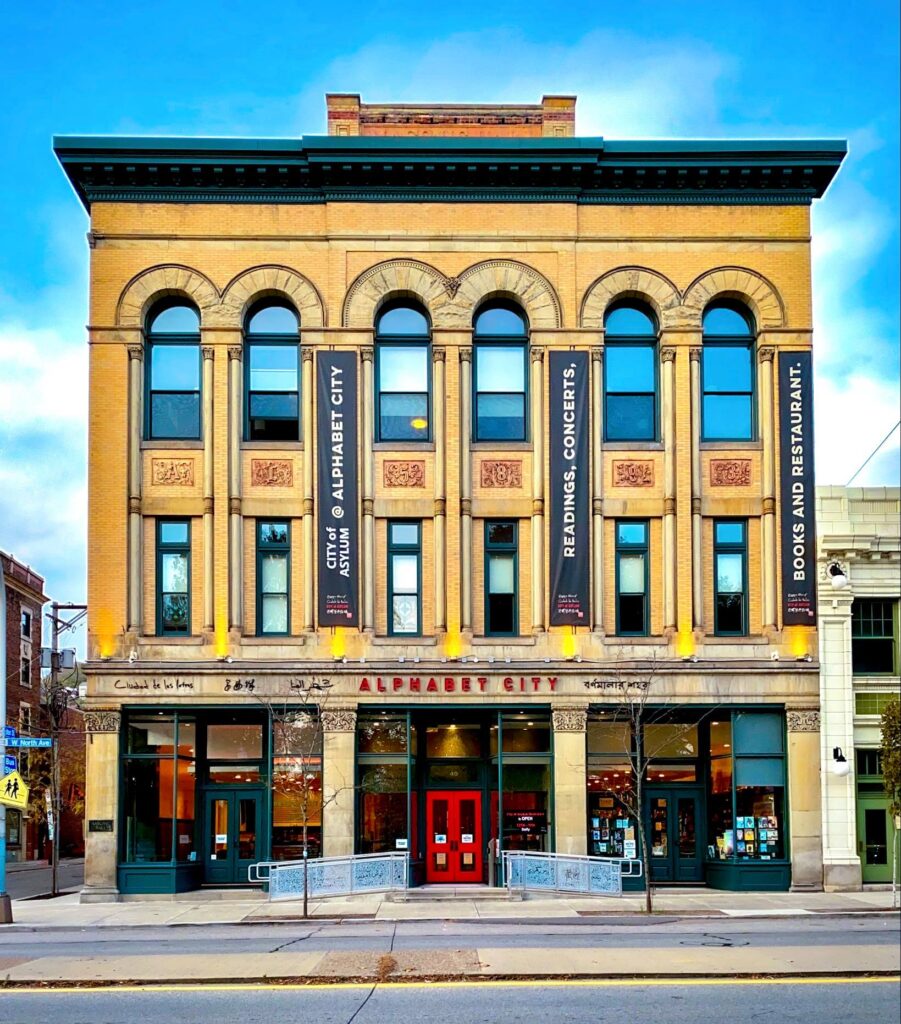 Alphabet City
Welcome to City of Asylum @ Alphabet City — a home for writers, readers, and neighbors — that includes spaces for readings and performances, writing workshops and residencies, as well as a restaurant and a bookstore. Alphabet City opened Fall of 2016. The facility and its programs are intended to be a unifying agent in the community, bridging the full array of economic, cultural, and racial diversity.
Alphabet City and City of Asylum's Mission
Watch the videos below to learn more about Alphabet City from City of Asylum co-founders, Diane Samuels and Henry Reese:
---

Programs at Alphabet City
Experience global culture in the heart of Pittsburgh on the Alphabet City stage. Meet authors from around the world, discover new musicians, watch an international film, or read along for during children's story hour. These are just just some examples of the free programs available in-person and online via livestream.
---
City of Asylum Bookstore
From world literature in translation, to bestsellers and children's books, our bookstore has something for everyone. Stop by to visit in-person, or browse our selection online.
Bookstore Hours
Open Daily | 12pm – 6pm
---

40 North Restaurant
Enjoy dinner at our Restaurant partner 40 North. Grab a happy hour drink after work, or a beer to enjoy during a concert.
Dinner Hours
Wednesday – Thursday | 5pm – 9pm
Friday & Saturday | 5pm – 10pm
Sunday | 5pm – 9pm
Lunch Hours
Wednesday – Friday | 11am – 2pm
Brunch Hours
Sunday | 10am – 2pm
Happy Hour
Wednesday – Saturday | 4:30pm – 6:30pm
---
Directions
Our address is 40 W. North Avenue, Pittsburgh, PA 15212. Click here to get directions to Alphabet City.
We are accessible by several forms of public transportation. If you prefer to drive, safe and convenient parking for Alphabet City is available at the Federal North Garage located on Federal Street, just one block from our venue.
At City of Asylum, we want our events to be welcoming and accessible to all people. In an effort to make our programs as inclusive as possible, we wish to make accommodations that allow people of all abilities to fully participate in our events. If you are in need of handicap parking or other accommodations, please contact us at accessibility@cityofasylumpittsburgh.org or 412.435.1110.