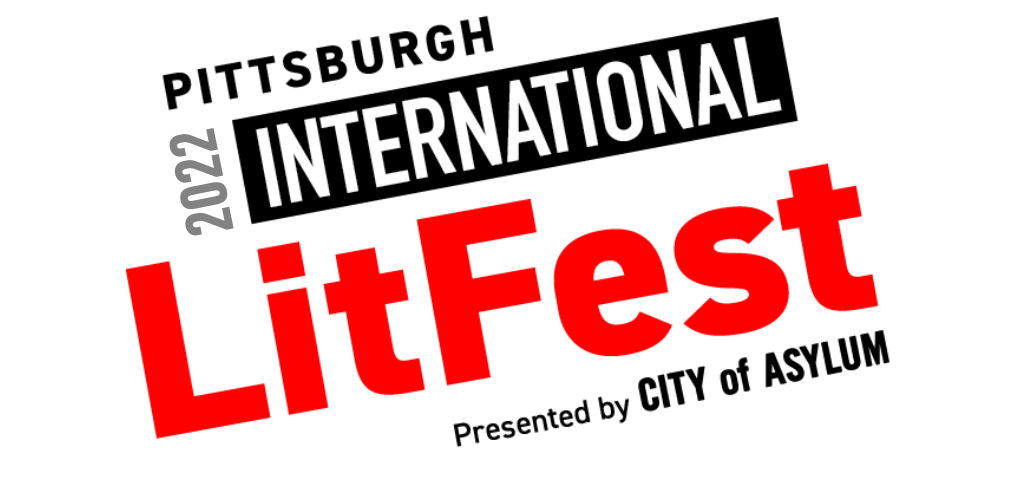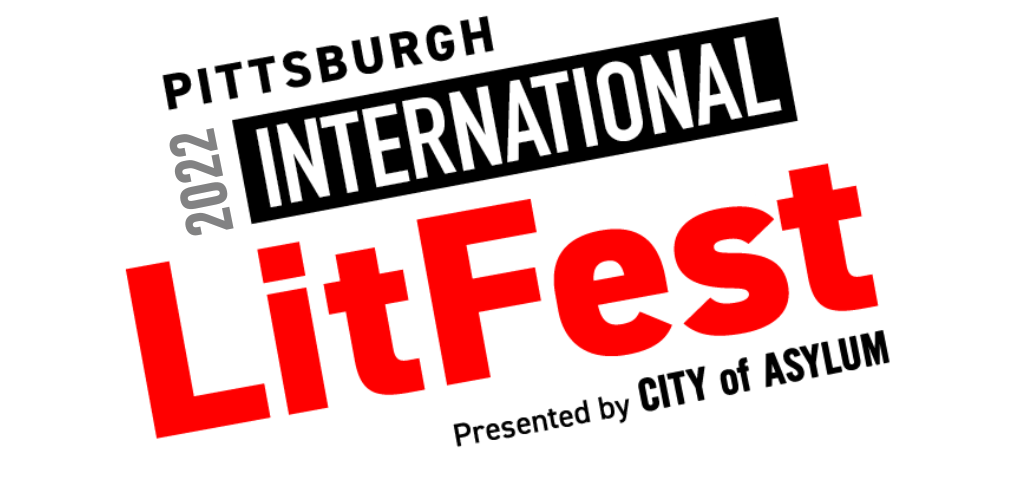 Pittsburgh International Literary Festival
The Pittsburgh International Literary Festival (LitFest '22) is a 10-day festival (starting on Saturday, September 10) that considers themes of identity and marginalization with an emphasis on literature in translation. City of Asylum is committed to producing literary programs that encourage cross-cultural exchange and this festival continues that work and the work to protect and celebrate freedom of creative expression.
This literary month features a diverse array of writers and artists from 15 countries and speaking more than 11 languages. It is a true hybrid festival, with programs connecting audiences and artists in Pittsburgh and around the world, both in person at Alphabet City and online.
See below for a current list of programs for LitFest '22. We are still adding to the calendar, so check back often.
---
With the health, well-being, and comfort of all as our top priorities, City of Asylum requires that our staff, artists, and all those attending an event be fully vaccinated. Please click here to learn more about our Covid 19 policies.
---
SATURDAY, September 10, 3:00 PM ET
Midnight's Children's Children: Writers on Salman Rushdie
Run time: 90 minutes
Salman Rushdie has been a relentless champion for free expression, using his voice to support imperiled writers for decades, and advocating tirelessly for the right of writers to create without fear of reprisal.
The bold and brutal attack on Salman Rushdie is an attack against the core values of freedom and ways of resolving differences through civil discourse, with art, literature, and journalism.
Salman Rushdie has also had profound influence on writers around the globe, and to generations of readers.
Join City of Asylum and fiction writers Amitava Kumar, Kiran Desai, and Suketu Mehta to reflect on Salman's legacy from his imaginative use of language and joyousness in his fiction, to his belief that writing allows us to cross borders and learn from one another, to his commitment to promoting literature that allows our society to safely grapple with social injustices.
This program is a celebration of Salman Rushdie, the legacy of his literary work and advocacy, and a commitment to the power and necessity of the written word.
---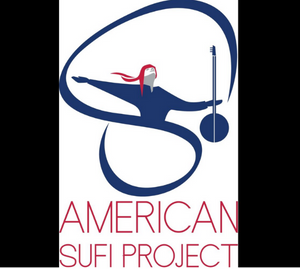 SUNDAY, September 11, 6:00 PM ET
American Sufi Music Project
Run time: 90 minutes
The American Sufi Music Project is an exploration and celebration of the connection between original Sufi compositions and improvised Jazz. Featuring readings of Rumi poetry and traditional Sufi dancers (Whirlers). This will be an evening of genres mixing, improvisation, and rhythmic music. Includes reading of Rumi poetry with Ruby Pinto.
This evening's music includes instruments from across the near east including Ney, Kemenche, Frame Drums, Fretless electric guitar, and U Bass. The compositions feature subtle ornamentation and striving improvisations. And with a touch of jazz, there is a sense of East-meets-West that contemporizes the music.
Based in New York City, the American Sufi Project seeks to transmit through music and art, a taste of divine love. The term 'Sufism' encapsulates hundreds of communities across the globe all united by a simple intention – to elevate consciousness, purify the heart and connect people with a greater love and higher power.
---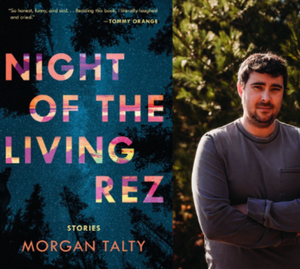 MONDAY, September 12, 7:00 PM ET
Morgan Talty: Night of the Living Rez
Run time: 75 minutes
Set in a Native community in Maine, Night of the Living Rez is a riveting debut collection about what it means to be Penobscot in the twenty-first century and what it means to live, to survive, and to persevere after tragedy.
In twelve striking, luminescent stories, author Morgan Talty—with searing humor, abiding compassion, and deep insight—breathes life into tales of family and community bonds as they struggle with a painful past and an uncertain future. A boy unearths a jar that holds an old curse, which sets into motion his family's unraveling; a man, while trying to swindle some pot from a dealer, discovers a friend passed out in the woods, his hair frozen into the snow; and two friends, inspired by Antiques Roadshow, attempt to rob the tribal museum for valuable root clubs.
In a collection that examines the consequences and merits of inheritance, Night of the Living Rez is an unforgettable portrayal of a Native community and marks the arrival of a standout talent in contemporary fiction.
---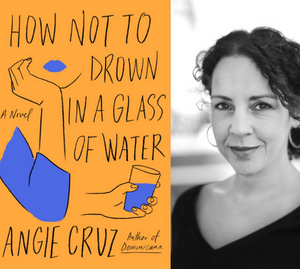 TUESDAY, September 13, 7:00 PM ET
Angie Cruz: How Not to Drown in a Glass of Water
Run time: 75 minutes
Angie Cruz visits the City of Asylum stage for the book launch day of her fourth novel How Not to Drown in a Glass of Water.
Cara Romero thought she would work at the factory of little lamps for the rest of her life. But when, in her mid-50s, she loses her job in the Great Recession, she is forced back into the job market for the first time in decades. Set up with a job counselor, Cara instead begins to narrate the story of her life. Over the course of twelve sessions, Cara recounts her relationships and friendships, her struggles with debt, gentrification and loss, and, eventually, what really happened between her and her estranged son, Fernando. As Cara confronts her darkest secrets and regrets, we see a woman buffeted by life but still full of fight. This is an indelible new novel about a woman who has lost everything but the chance to finally tell her story.
Moderated by Cleyvis Natera, author of Neruda on the Park
---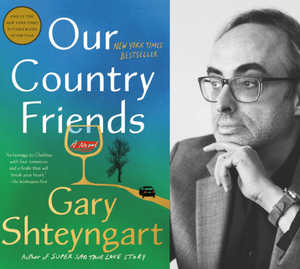 Wednesday, September 14, 7:00 PM ET
Gary Shteyngart: Our Country Friends
Run time: 75 minutes
Award winning author Gary Shteyngart visits City of Asylum in person to read from and discuss his NY Times best-selling novel Our Country Friends.
In the rolling hills of upstate New York, a group of friends and friends-of-friends gather in a country house to wait out the pandemic. Over the next six months, relationships will take hold, while old betrayals will emerge, forcing each character to reevaluate what matters most.
The unlikely cast of characters includes a Russian-born novelist; his Russian-born psychiatrist wife; their precocious child obsessed with K-pop; a struggling Indian American writer; a wildly successful Korean American app developer; a global dandy with three passports; a Southern flamethrower of an essayist; and a movie star, the Actor, whose arrival upsets the equilibrium of this chosen family.
The novel is elegiac and very, very funny, and Gary's visit promises to be just as ripe with emotion and laughs. In conversation with John Allison, an editor with Trib Total Media.
---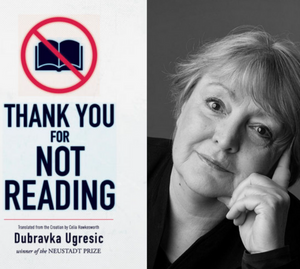 SATURDAY, September 17, 1:00 PM ET
Dubravka Ugrešić: Thank you for Not Reading
Run time: 75 minutes
Thank You for Not Reading is a biting critique of book publishing: agents, subagents, and scouts, supermarket-like bookstores, Joan Collins, book fairs that have little to do with books, and authors promoted because of sex appeal instead of merit. Nowadays, the best strategy for young authors wanting to publish is to become famous in some other capacity first. Ugresic argues that the cultural forces like listicles and celebrity book clubs, the publishing machine neglects literature in favor of accessible, entertaining books for the masses.
One of the most interesting and paradoxical comparisons coming out of In this work,Ugrešić dissects book culture and draws comparisons between the art of socialist realism (as prescribed by the Soviets) and the nature of the contemporary marketplace to produce and promote art that appeals to everyone.
The Neustadt Prize winner DubravkaUgrešić joins us from her home in Croatia to read from and discuss her newest work. Audiences may remember Dubravka's visit to City of Asylum in 2018, an evening filled with her wit and humor and one the City of Asylum staff still talk about as one of our favorites.
---
POSTPONED: SATURDAY, September 17, 3:00 PM ET
Translators & Illustrators: Youth Literature in Translation
Run time: 75 minutes
This event has been POSTPONED. A new date will be announced as soon as possible.
The relationship between authors and translators are some of the most connected and collaborative relationships in literature. But in books for young people, illustrators too play an extremely important role, communicating emotion and meaning, and informing and elevating translations.
Join our discussion between award winning Persian translator Sara Khalili and Iranian illustrator Nooshin Safakhoo as they explore their crafts and their collaboration, while showcasing the English translation of In the Meadow of Fantasies, written by Hadi Mohammadi.
In the Meadow of Fantasies is a 2022 Batchelder Honor-recipient. A story about dreaming and caring for others, its poetic language and glorious illustrations evoke ancient Persian literature.
This conversation is for adults interested in the crafts of translation & illustration, interested in both youth and Persian literature, or for the simply young at heart. It follows a discussion and workshop for young people on Friday, September 16th. Sara will be on the City of Asylum stage, talking with Nooshin live from her home in Iran.
Presented in partnership with Elsewhere Editions, a children's imprint from Archipelago Books, devoted to translating imaginative picture books from around the world.
---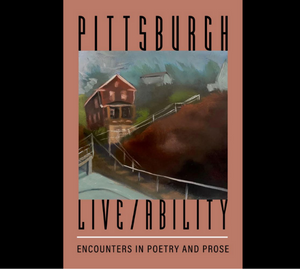 SUNDAY, September 18, 3:00 PM ET
Pittsburgh Live/Ability: Encounters in Poetry & Prose
Run time: 180 minutes
What does it mean to live in one of U.S.' "most livable" cities? Who benefits? Whose experiences are often ignored?
Pittsburgh Live/Ability: Encounters in Poetry and Prose is a literary collection that reflects the realities of life for Pittsburghers with disabilities. It is the creative culmination of two years of work between 11 multilingual, multiply disabled, and multiply abled Pittsburgh writers and 11 Pittsburghers with disabilities. The anthology is an intimate collaboration recounting what it means to translate oneself into an abled world, and the dynamic and textured diversity of lives pursued in our city.
This public program, which officially launches the e-book and audio collection, serves as a celebratory reading and conversation with project participants. The full afternoon includes audience Q and A and the opportunity to mingle and celebrate with contributors. We hope you'll join us.
The Pittsburgh Live/Ability project is made possible by the generous support from: Fisa Foundation; Staunton Farm Foundation; and The Heinz Endowments
---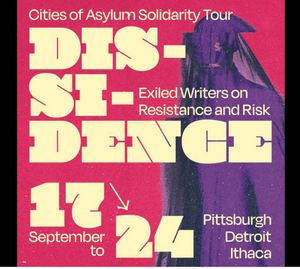 MONDAY, September 19, 7:00 PM ET
DISSIDENCE: Exiled Writers on Resistance & Risk
Run time: 90 minutes
Russian poet Dmitry Bykov nearly died in a poisoning, then found himself banned from teaching and pursuing his work as a public figure. Essayist Pwaangulongii Dauod received death threats for writing about queer culture in his native Nigeria. Cartoonist Pedro X. Molina watched as Nicaraguan state forces jailed his colleagues and occupied the offices of the newspaper where he published his work. Novelist Anouar Rahmani was threatened with imprisonment for writing about human rights in Algeria.
All four were forced to flee their homelands and live in the writer sanctuaries in the US Cities of Asylum network (Pittsburgh, Ithaca, and Detroit). Now all four share the stage for the first time, sharing their experiences, their writings, and their commitments to creative freedom of expression.
This program is the first of its kind solidarity tour between the Cities of Asylum in Pittsburgh, Detroit, and Ithaca. It is manifestation of City of Asylum's mission to protect and celebration freedom of expression and a display of the heart of commitment to providing a safe haven to exiled and persecuted literary artists.
Support for this program is granted by Cornell University's Migrations Global Grand Challenge and the Mellon Foundation's Just Futures Initiative.
---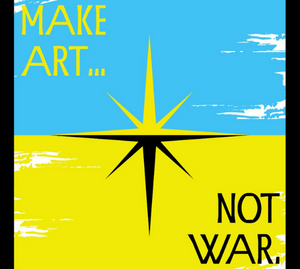 TUESDAY, September 20, 7:00 PM ET
I Am (Romance): Ukrainian theater in translation
Run time: 90 minutes
In Ukrainian author Mykola Khvylovy's 1924 novel "I am (Romance)," the head of the local Cheka sentences his mother to death in the name of the ideals of the revolution. In 2022, Vladimir Putin declared war on Ukraine in the name of protecting the "Motherland." As a result of his ideals, millions of Ukrainians are now displaced.
Seven of these displaced Ukrainian theater artists will spend a 2-month residency in Pittsburgh with playwright Audrey Rose Dégez to interpret Khyvlovy's work into performance.
The performance was originally intended as a residency at Slovo House Kharkiv—a writer's house offering residency to cultural figures in Ukraine since the 20th century. Because work in Kharkiv is now impossible, the performance is presented in partnership as a Slovo House satellite offering.
The evening includes a staged reading and post-show artist discussion, offering the opportunity to discuss theater in translation as well as Ukrainian cultural heritage and the current movement of Ukrainian artist-activists.
---
WEDNESDAY, September 21, 7:00 PM ET
Poetry in Concert: Contemporary Chamber Music with Imani Winds
Run time: 90 minutes
The dynamic and twice Grammy nominated Imani Winds have led a revolution and evolution of the wind quintet through their dynamic playing, dedication to new works from composers of color, imaginative collaborations, and programming concerts that speak to contemporary social justice issues.
Imani Winds joins us to close LitFest 2022 by performing an all new lineup of works inspired by and interweaving dynamic pieces of poetry.
Program:
"The Light is the Same," by Indian American composer Reena Esmail drawing on poems from renowned Persian poet and 13th century sage, Rumi
"Sometimes," by the political composer Fred Rzewski. Inspired by and including the writings of historian John Hope Franklin and the poetry of Langston Hughes
"Cane," by pianist/composer Jason Moran that chronicles the story of a well-documented matriarch of Moran's from slavery to freedom
The evening also features readings of Rumi poetry from Haleh Liza Gafori, translator, vocalist, and poet whose translations of Rumi were released in March 2022 in her collection Gold from New York Review Books and readings of Langston Hughes poetry from Ervin Dyer, news journalist, storyteller, and professor of Africana Studies at The University of Pittsburgh.
Presented in partnership with Chamber Music Pittsburgh

---
LitFest '22 is made possible by the generous support from the Allegheny Health Network, Allegheny Regional Asset District, FISA Foundation, First National Bank, Juliet Lea Hillman Simonds Foundation, National Endowment for the Humanities, Opportunity Fund, PA Humanities, Pennsylvania Council on the Arts, Posner Foundation of Pittsburgh, The Fine Foundation, The Heinz Endowments, The Pittsburgh Foundation, Staunton Farm Foundation, and UPMC Health Plan.