The fifth and newest is
Tuhin Das
' "Comma House," completed in 2021. Tuhin came to City of Asylum to escape death threats in his native Bangladesh.  In 2019, after seeing drawings that he had made in manuscripts of his writing, we invited Tuhin to create what is now "Comma House." He worked closely with City of Asylum co-founder Diane Samuels, who has led the development of the house publications.
For his project, Tuhin began to experiment with "concrete poetry," writing poems in shapes related to the subject of the poem.  The central poem on Tuhin's "house publication" is written in the shape of a giant comma. The comma represents multiple themes related to the passage of time and the connecting of people:
Keeping You Waiting With a Comma
A row of pine trees standing in a poem.
Dangling dewdrops clutching the fingers
of their winter nurse, and December
from last year is still flowing.
Several rows of birds
making the world wait with a comma,
the mouth of some distant cave is opening now.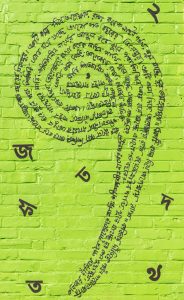 In this text, December represents difficult moments from the past—the winter of our lives, the darkest moments where there is the least sunlight. Yet, the poem reassures us that there is help coming to us in the form of a nurse to care for our pain and wounds. And although the world is still crashing down around us, birds are waiting with a message of peace. This message is the light at the end of the tunnel—at this moment, the mouth of the cave is still far away, but it is beginning to open.
The front of the house is painted red and green, the colors of the Bangladeshi flag. Green represents the very fertile lands of Bangladesh, while red honors the blood of the people who were killed in Bangladesh's liberation war. The comma poem is written in Bengali, the primary language of Bangladesh. And the letters and numbers scattered across the façade are also in Bengali.
The base section of the mural is painted purple, the color of a species of water lilies frequently grown in south-central Bangladesh, the region where Tuhin was born. The small yellow drawing on the window glass reveals the pain of not being able to return home for a long time. But the top of the house features a poem in English about robins who seemed to be singing a welcome to him when he first arrived on Sampsonia Way.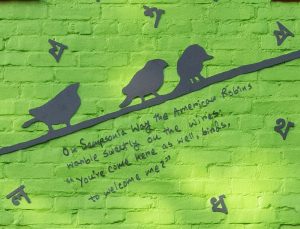 The letters in the text and art on the house are made in aluminum and were cut locally by Hydro-Lazer from Tuhin's design. Painting and installation of the work were done by Tom Herman. Funding for this project comes from the
Urban Redevelopment Authority of Pittsburgh (URA).