Actors Talk August Presented by August Wilson House: Brandon Dirden
December 5, 2022 @ 8:15 pm

-

9:30 pm

EST
This is a virtual-only program via City of Asylum @ Home. 
August Wilson House celebrates America's greatest playwright with substantial insider interviews with leading August Wilson actors, directors, and artists—regional and national. Hosted and moderated by Chris Rawson, a veteran Pittsburgh Post-Gazette theater critic who chronicled Wilson's career and became a friend. The goal is to capture the memories, anecdotes, and insights of those who know Wilson's epic American Century Cycle from the inside. 
About the Actor: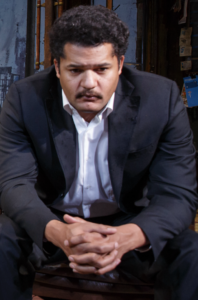 Brandon Dirden has an almost-complete August Wilson ten-play cycle, having been in six and directed three, from regional theater to Broadway. Brandon met August when he was young and had a supportive relationship with him for many years. For this program, Brandon insightfully digs into Levee (Ma Rainey's Black Bottom), Boy Willie (The Piano Lesson), Booster (Jitney), and other characters he's played.
Previous Editions of the Actors Talk August Series:
1) Oct. 19, 2020: Eugene Lee and Wali Jamal
2) Nov. 2, 2020: Montae Russell
3) Nov. 16, 2020: Mark Clayton Southers
4) Dec. 7, 2020: Ruben Santiago-Hudson
5) Jan. 4, 2021: Eileen J Morris
6) Jan. 18, 2021: Stephen McKinley Henderson
7) Feb. 1, 2021: Phylicia Rashad
8) Feb. 15, 2021: Todd Kreidler
10) Mar. 15, 2021: Derrick Sanders
11) Apr. 5, 2021: Yvette Ganier
12) Apr. 19, 2021: James Williams
15) June 7, 2021: Russell Andrews
16) Sept. 13, 2021: Jack Viertel
17) Oct. 4. 2021: Narda E. Alçcorn 
18) Oct. 18, 2021: Kim Sullivan
20) Nov. 15, 2021: Timothy Douglas
21) Dec. 6, 2021: Todd Kreidler (2)
23) Jan. 24, 2022: George C. White
24) Feb. 7, 2022: Mark Clayton Southers (2)
25) Feb. 21, 2022: Jerome Preston Bates
26) Mar. 7, 2022: Ekundayo Bandele
27) Mar. 21, 2022: Chuck Smith 
28) Apr. 4, 2022: Ron OJ Parson
29) Apr. 18, 2022: Kim Staunton
30) May 2, 2022: Charles Dumas
31) June 20, 2022: Brenden Peifer and Melessie Clark
32) Aug. 22, 2022: Jonathan Berry and Chuck Timbers
33) Oct. 3, 2022: Russell Hornsby
August Wilson House (AWH) is Wilson's Hill District childhood home at 1727 Bedford Ave. Restored as an arts center, it promotes his artistic and cultural legacy while nurturing the artists of the future. AWH sponsors a wide range of programs including the annual Hill District Block Party/Community Festival, backyard productions in collaboration with Pittsburgh Playwrights Theater, Writing Workshops starting in late 2022, AWH Fellowships in collaboration with Duquesne University and the University of Pittsburgh, August in the Schools, several oral history projects, monthly Reading Roundtables, and other programs centering on community engagement.
Want to follow news about the Exiled Writer and Artist Residency Program at City of Asylum? Sign up for our email list to receive news updates, information about our upcoming programs, and more!