On June 1st of 2019, Rangoli Pittsburgh introduced LGBTQ+ AAPI Day of Visibility, and it's since been recognized for 5 years in a row by official proclamation from both Pittsburgh and Pennsylvania. For the past five years, it's been a day of celebration and of visibility for this unique intersection of identities, right in between Asian American Heritage Month and Pride Month.
Join us for a conversation on intersecting marginalized identities in Appalachia with Lambda Literary Award Finalist Neema Avashia, author of Another Appalachia: Coming Up Queer and Indian in a Mountain Place, and Namita Dwarkanath, a University of Pittsburgh law student and prior advocate for gender-based violence prevention. 
Another Appalachia presents a series of 17 essays that navigate the nuance of a childhood full of paradox, examining both the roots and the resonance of Neema's identity as a queer desi Appalachian woman, while encouraging readers to envision more complex versions of both Appalachia and the nation as a whole. It is a work that offers another view into a place few consider to contain multitudes, and insists that it does. With lyric and narrative explorations of foodways, religion, sports, standards of beauty, social media, gun culture, and more, Another Appalachia mixes nostalgia and humor, sadness and sweetness, personal reflection and universal questions, with impeccable balance.
This program is presented in partnership with Rangoli Pittsburgh, as part of Rangoli Pittsburgh's LGBTQ+ AAPI Day of Visibility celebrations. 
You can purchase your own copy of Neema's book, Another Appalachia, at City of Asylum Bookstore.
About the Author:
Neema Avashia (she/her) is the daughter of Indian immigrants, and was born and raised in southern West Virginia. She has been an educator and activist in the Boston Public Schools since 2003, and was named a City of Boston Educator of the Year in 2013. Her first book, Another Appalachia: Coming Up Queer and Indian in a Mountain Place, was published by West Virginia University Press in March. It has been called "A timely collection that begins to fill the gap in literature focused mainly on the white male experience" by Ms. Magazine, and "A graceful exploration of identity, community, and contradictions," by Scalawag. The book was named Best LGBTQ Memoir of 2022 by BookRiot, was one of the New York Public Library's Best Books of 2022, and is a Lambda Literary Award finalist. Neema lives in Boston with her partner, Laura, and her daughter, Kahani.
About the Moderator:
Namita Dwarakanath (she/her) is currently studying law and public health at the University of Pittsburgh. Prior to law school, she worked for six years in gender-justice spaces, focusing on violence prevention through the dismantling of gender norms. Her work centered on youth-led models for gender-based violence prevention in community, including youth-led models for addressing LGBTQIA+ biases.
About Rangoli Pittsburgh:
Rangoli Pittsburgh is a community initiative dedicated to creating community for and uplifting the voices of LGBTQ+ South Asians in Pittsburgh. As part of these efforts, Rangoli holds monthly community gatherings, has published Mirrors: LGBTQ+ South Asian Voices—an anthology of stories, poetry, and art, and spearheads the movement for an LGBTQ+ AAPI Day of Visibility on June 1. They have also organized several film screenings, facilitated town halls and workshops, tabled at several community events, and participated in regional and national conversations with similar LGBTQ+ Asian organizations.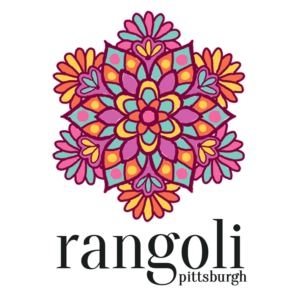 About Your Visit: 
City of Asylum bookstore is open from 12-6PM. 
The in-house restaurant 40 North will be open at 5PM after the program.