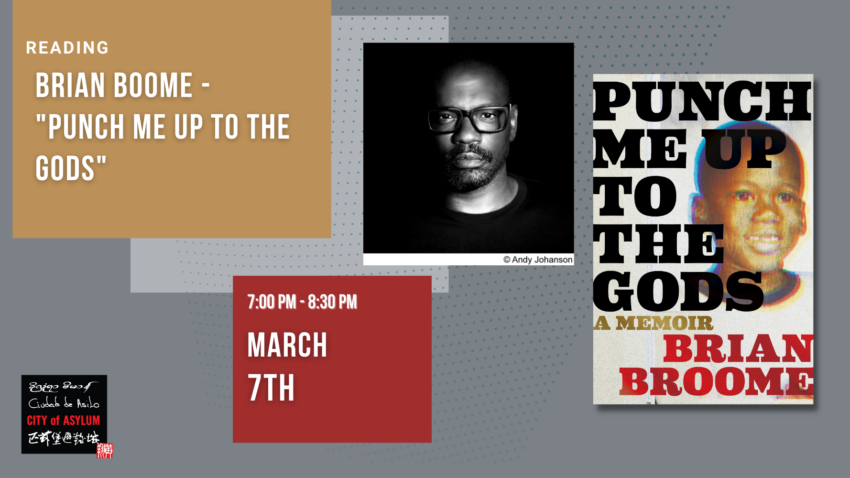 This is a virtual-only event hosted via City of Asylum @ Home.
A poetic and raw coming-of-age memoir about Blackness, masculinity, and addiction, Punch Me Up to the Gods is Brian Broome's NY Times' Editor's Pick debut work. 
Brian's early years growing up in Ohio as a dark-skinned Black boy harboring crushes on other boys propel forward this gorgeous debut. The work is now known for its rich emotions—sometimes cringe-worthy, sometimes heartbreaking, and often hilarious, with a writerly voice that shows the true depth of vulnerability for young Black boys that is often quietly near to bursting at the seams. 
In conversation with Waverly Duck, urban ethnographer and the North Hall Endowed Chair Professor of sociology at the University of California-Santa Barbara.
Brian Broome  is a contributing columnist at The Washington Post, and his work has appeared in "Poets and Writers," on Medium, and more. Broome has been a finalist in the Moth storytelling competition and won the grand prize in Carnegie Mellon University's Martin Luther King Writing Awards. He also won the Audience Choice Award at the Cortada Short Film Festival and was a semifinalist in the Portland Short Fest.
This program is presented in partnership with the Greater Pittsburgh Festival of Books as a series of pre-programs before the May 14, 2022 Festival.