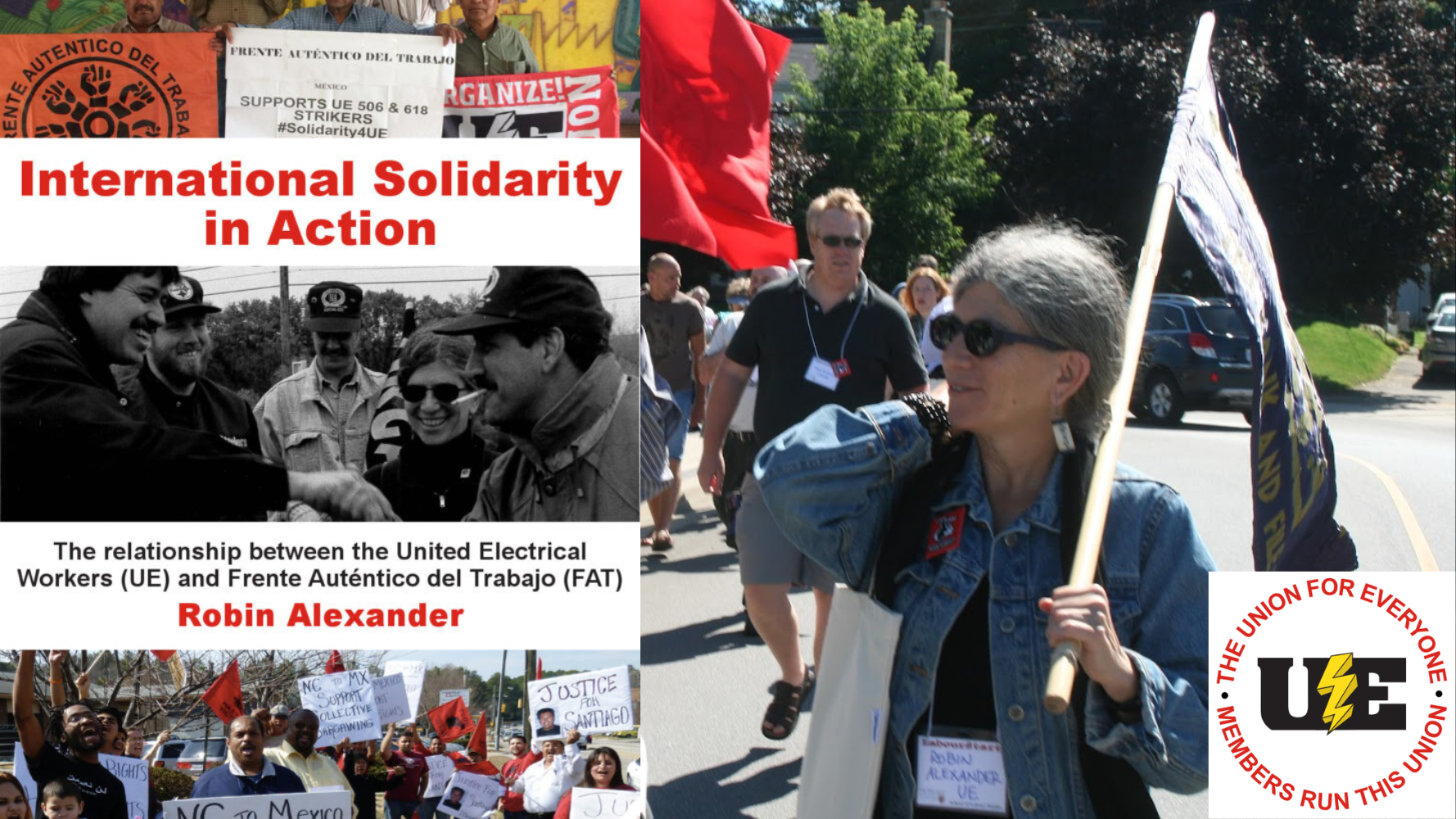 In this program, retired UE Director of International Affairs Robin Alexander presents a reading and conversation surrounding her new e-book International Solidarity in Action (ISIA). Although the UE has relationships with many unions around the world, the most developed is with the Mexican Frente Auténtico del Trabajo, and includes organizing, education, and worker to worker and cultural exchanges. Published in 2022 by the United Electrical Workers (UE), ISIA tells the story of that partnership, serving as a testimony to the power of rank-and-file solidarity. A Spanish translation will be published in Mexico this Fall.
About the Author:
Robin Alexander worked for the United Electrical, Radio & Machine Workers of America (UE) for 27 years. She was hired in 1985 as an attorney, became the union's General Counsel, and between 1993 and 2014 she served as UE's Director of International Affairs, where she helped to create a new, rank-and-file approach to international solidarity. From 1978 until 1985 and again in the early 1990's she worked on the Texas border representing migrant farm workers and farm worker unions in the areas of employment, occupational health and safety and the environment. After retiring from UE, Robin was elected to the Board of the Perry Hilltop Citizens Council, where she and Dwayne Barker coordinated the creation of the park and entry to the Perry Hilltop and Fineview communities at Federal St. and Perrysville Ave. (known as Unity Corner) and helped launch the effort to promote affordable housing in her neighborhood. She now lives much of the year in Mexico, where she wrote International Solidarity in Action and has been creating stained glass and mosaic art. 
About Your Visit: 
This program will take place in the Word Cellar at Alphabet City. 
Remember you can dine at the in-house restaurant 40 North before or after the show. Please visit Open Table or call 412-435-1111 to make a reservation.