With the health, well-being, and comfort of all as our top priorities, City of Asylum requires that our staff, artists, and all those attending an event be fully vaccinated. Please click here to learn more about our Covid 19 policies. 
Pianist, composer, & bandleader Mara Rosenbloom has been called "a whole-hearted poet of the piano," – she is a builder & a synthesist; a fiercely lyrical composer & improviser (All About Jazz).
Mara Rosenbloom travels back to City of Asylum for her newest project of original work. 
Over the past decade, Rosenbloom's distinctive body of work has increasingly delved into the nature of human connection, looking to connectivity in nature as models for how we might more effectively communicate & come together. Her latest project, Bone Labyrinth, draws connection between the spirals of our inner ears – the locus for human balance and hearing – and the seemingly universal fascination with re-creating external labyrinths featuring a series of melodies that circles back and delves in directions to try something new. 
The set includes poetic works from Adrienne Rich as well as live collaborations with poets Patricia Jabbeh-Wesley (Liberia) and Airea D. Matthews (US). 
Featured Musicians: 
Mara Rosenbloom: Piano & Composition
Sean Conly: Bass
Michael TA Thompson: Drums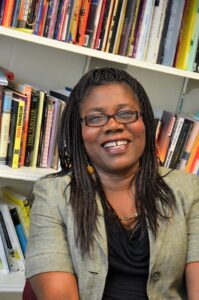 Patricia Jabbeh Wesley is a Professor of English, Creative Writing, and African Literature at Penn State University. She is the author of six critically acclaimed books of poetry, including her most recent, Praise Song for My Children: New and Selected Poems, published in 2020 by Autumn House Press. Her works are known around the world as an exploration of the Liberian civil war, the Liberian and Grebo cultures, a witness account of the Liberian civil war, and a voice for women. Her poems, short stories, and creative nonfiction articles have appeared in Harvard Review, Harvard Divinity Review, Transition, Prairie Schooner, The New York Times Magazine, Cutthroat, among others, and her poetry, translated into several languages. Jabbeh Wesley's awards and nominations include a World Bank Fellowship, a 2011 President's Award from Blair County NAACP, four Pushcart nominations, and a Best of the Net award nomination for her poetry, and numerous grants from the Pennsylvania State University to fund her research on the trauma stories of Liberian women. Jabbeh-Wesley is a human rights activist, an anti-war advocate, and a literary scholar.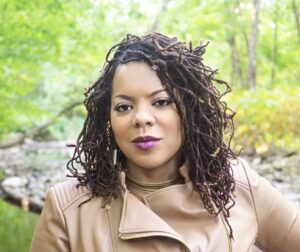 Airea D. Matthews (US)
Airea D. Matthews' first collection of poems is the critically acclaimed Simulacra, which received the prestigious 2016 Yale Series of Younger Poets Award. The collection explores the topics of longing and desire with power, insight, and intense emotion. Matthews received a 2020 Pew Fellowship, a 2016 Rona Jaffe Foundation Writers' Award, and was awarded the Louis Untermeyer Scholarship in Poetry from the 2016 Bread Loaf Writers' Conference. Matthews earned her MFA from the Helen Zell Writers' Program at the University of Michigan. In 2022, she was named Philadelphia's Poet Laureate. She is an assistant professor at Bryn Mawr College where she directs the poetry program.
About your visit:
The in-house restaurant 40North will be closed but a cash bar will be available.