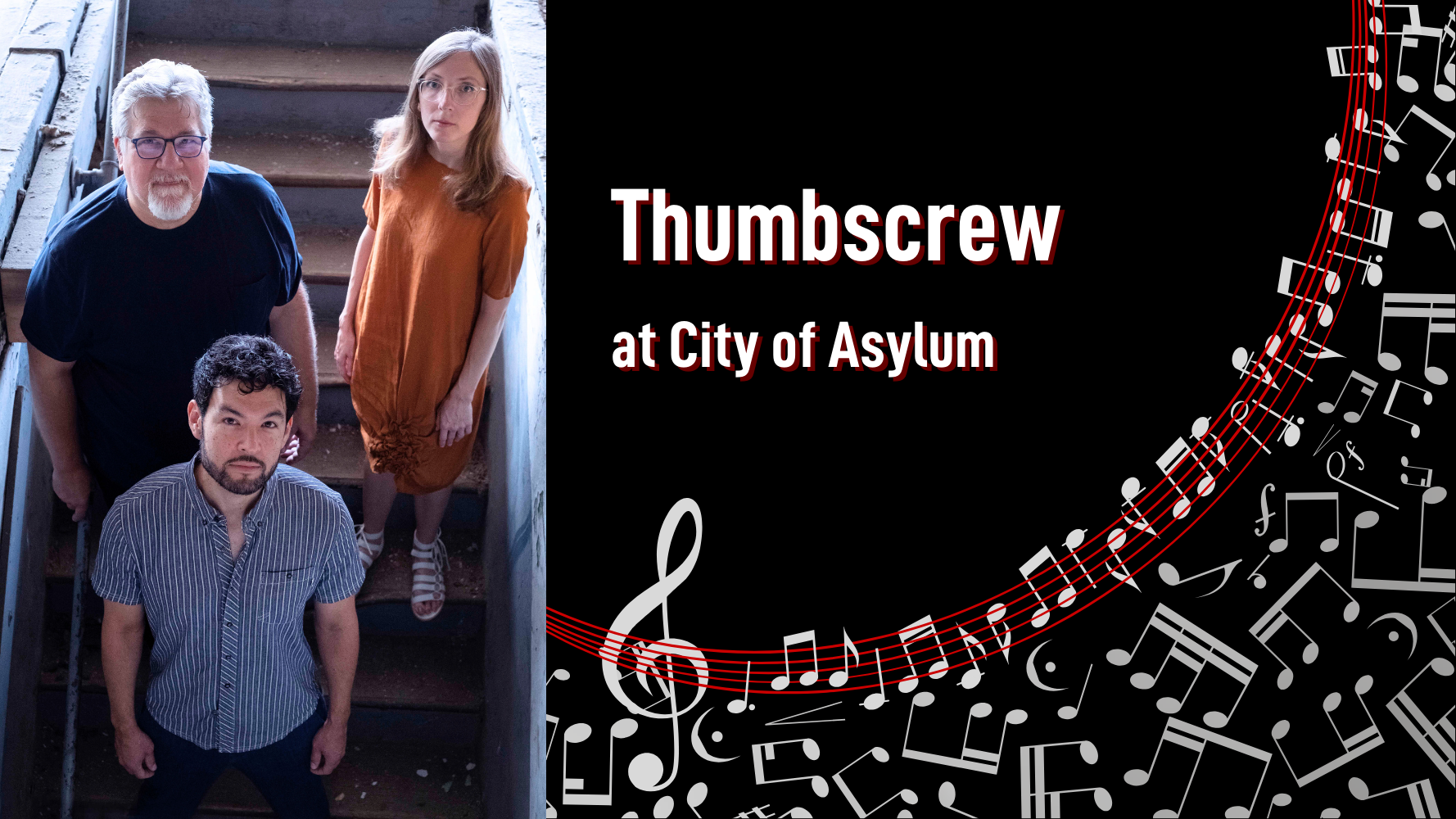 In an exciting return to the Alphabet City stage, Thumbscrew (Tomas Fujiwara, Michael Formanek, and Mary Halvorson) debut a program of original compositions, developed and rehearsed over the course of their 5th biennial residency at City of Asylum.  The band has made albums in each of their previous residencies here, with album artwork featuring scenes from our beloved Northside neighborhood, and song titles named after anything from the neighborhood streets to the cry of the anahinga from the National Aviary. 
Featured Musicians:
Tomas Fujiwara: drums and vibraphone
Michael Formanek: double bass
Mary Halvorson: guitar
About the Band:
Thumbscrew came about by accident, after bassist Michael Formanek subbed in a band including guitarist Mary Halvorson and drummer Tomas Fujiwara back in 2011. Something special happened among them right away, and they formed a trio, a co-operative in the truest sense. They play originals by all hands, compositions whose rhythms may surge or lag or veer sideways according to their own internal logic. Bass and drums solo within the ensemble, not in quarantine. No one needs to be loudest. The blend is tight: one string (or metal) sound may bleed into another. It's something to hear—something twisty and turny and always on the move. The band has released seven albums to date, all on Cuneiform Records: Multicolored Midnight (2022), Never Is Enough (2021), The Anthony Braxton Project (2020), Ours and Theirs (2018), Convallaria (2016), and Thumbscrew (2014). 
About Your Visit: 
The in-house restaurant 40 North will be closed, but a cash wine bar will be available.
To celebrate the band's 5th residency, there will be hors d'oeuvres for all concert attendees.