Debut author Amelia Possanza asks: How could lesbian love help us reimagine care and community? What would our world look like if we replaced its foundation of misogyny with something new, with something distinctly lesbian? When Amelia moved to Brooklyn to build a life of her own, she found herself surrounded by queer stories: she read them on landmark placards, overheard them on the pool deck when she joined the world's largest LGBTQ swim team, and even watched them on TV in her cockroach-infested apartment. These stories inspired her to seek out lesbians throughout history who could become her role models, in romance and in life. The result is Lesbian Love Story, an intricate tapestry of lesbian histories, seamlessly cinched together with threads of Amelia's own story. 
For readers of Saidiya Hartman and Jeanette Winterson, Lesbian Love Story is an intimate journey into the archives—uncovering the romances and role models written out of history and what their stories can teach us all about how to love. Centered around seven love stories for the ages, this is Possanza's journey into the archives to recover the personal histories of lesbians in the twentieth century: who they were, how they loved, why their stories were destroyed, and where their memories echo and live on. Possanza's hunt takes readers from a drag king show in Bushwick to the home of activists in Harlem and then across the ocean to Hadrian's Library, where she searches for traces of Sappho in the ruins. Along the way, she discovers her own love—for swimming, for community, for New York City—and adds her record to the archive. 
You can purchase your own copy of Amelia's book, Lesbian Love Story, at City of Asylum Bookstore.
Don't miss Amelia's workshop, Archive Your (Queer) Life, where participants will create individual digital archives of their own lives and assemble a queer time capsule as a group.
About the Author:
Amelia Possanza (she/her) is a full-time book publicist and part-time writer who currently lives in Brooklyn with her cat. Her work has appeared in The Washington Post, BuzzFeed, Electric Literature, The Millions, and NPR's Invisibilia. Lesbian Love Story is her first book.
About the Moderator: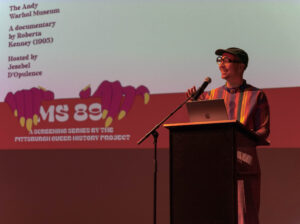 Harrison Apple is the Co-Director of the Pittsburgh Queer History Project and Associate Director of Carnegie Mellon University's Frank-Ratchye STUDIO for Creative Inquiry. They received their PhD in Gender and Women's Studies from the University of Arizona and where they wrote their dissertation about an underground after-hours gay & lesbian social club network in Pittsburgh between 1960-1990.
About Your Visit: 
The in-house restaurant 40 North will be closed, but a cash wine bar will be available.