A self-taught exploration of his homeland's instruments—silimba (a homemade marimba), kalimba (mbira/kalibma), and kalumbu (a one-stringed instrument)—led Zambian musician Mathew Tembo to become an Afropop star, winning awards and touring and recording all over the world.
Mathew presents his latest album, Mtendere (Peace), in a concert dedicated to worldwide peace. Mtendere, which prominently features the kalimba, is a fusion of indigenous Zambian music, reggae, and jazz. Mathew performs with a four-piece band consisting of bass, guitar, drums, kalimba, and vocals.
About the Musicians:
Mathew Tembo is an award-winning Afropop musician hailing from Zambia in southern Africa. Originally a reggae singer only, he began playing Afropop after touring Europe in 2004. Incorporating the use of traditional Zambian and African instruments, Mathew sings mostly in Chinsenga (the language of the Nsenga people) and Chichewa (the language of the Chewa people) and weaves syncopation, repetition, polyrhythm, and call-and-response into his music. His music is enjoyable yet powerful—a style he calls Chachacha (redemption songs).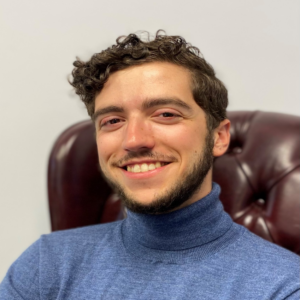 Dan Nemanic (bass) hails from Greensburg, PA. A musician all his life, he began his career by learning piano at the age of five. He pursued low brass instruments in school, playing in the concert, jazz, and marching bands at Hempfield Area High School. While at Pitt, Dan performed with the marching band as well as with the inaugural Pitt Afropop Ensemble. In his free time, he enjoys hiking, biking, cooking, reading, and spending time with his family.
Sam Sadow (electric guitar) is from Bucks County, PA and grew up playing rock and blues, later experimenting with hip-hop and jazz when he moved to Pittsburgh. He met Mathew Tembo at the University of Pittsburgh in 2018 after taking an interest in Afrorock and Afropop. Together, they performed and recorded Mathew's original music in the Pittsburgh area. Sam is currently based in Philadelphia.
Benjamin Volk (drums) is a musician who's played drums, among other instruments, for 13 years. He recently contributed drum performances on several tracks of Mathew Tembo's album Mtendere. Benjamin has a degree in music composition from the University of Pittsburgh and has played in various bands and with various musicians, most recently drumming for the Pittsburgh-based indie band Valleyview.
__
About Your Visit:
Remember you can dine at the in-house restaurant 40 North before, during, or after the show. Please visit Open Table or call 412-435-1111 to make a reservation.