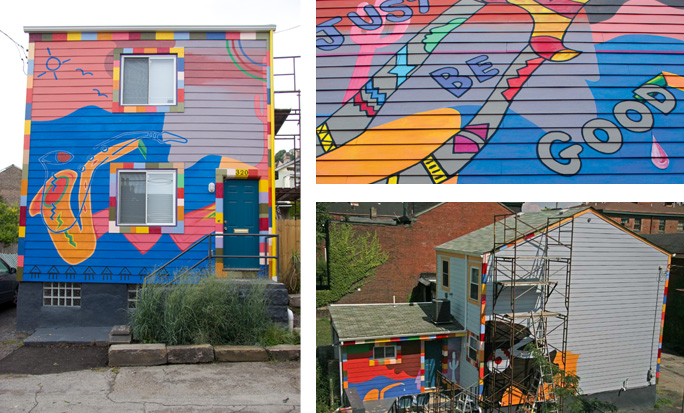 The fourth City of Asylum house publication was created by a collaboration between Oliver Lake and Than Htay Maung (who created the Burma-Pittsburgh mural on 324 Sampsonia Way).

Oliver Lake is best known as a jazz saxophonist and composer. He helped us create the first Jazz Poetry Concert in 2005; and each year since, he has performed on Sampsonia Way at Jazz Poetry with a different jazz ensemble, including the World Saxophone Quartet, Geri Allen and Trio Three, and the Oliver Lake Big Band. Oliver is also a painter and for Jazz House he made a series of paintings, which Than Htay used as maquettes for the giant murals on the house.

The side of the house facing the parking pad bears the words "Just be good" and a picture of a safety pin. There is a story behind this. Oliver's inspiration is, in part, a strange character he remembers haunting the neighborhood he grew up in St. Louis, Missouri. "Every neighborhood has one," he said. "This man would walk around in a topcoat and hat, even in the sweltering summer. He covered his coat in safety pins and whenever he met a child, he could pin a safety pin on their shirt and declare that they are now in the Club." When young Oliver received his pin, he asked what he had to do to be in the club. The man replied, "Just be good."

Inside the house are original artworks by Oliver. He has painted doors, walls, and bookshelves and installed four of his signature "sticks." The doorbell inside is a painted saxophone, and when you ring it the saxophone plays 30 seconds of jazz. There are six musical excerpts in rotation, and each is played by a different one of Oliver's bands.