How a community of students and educators in York, Pennsylvania, reversed a book ban, demanded a more inclusive education, and found a home within each other.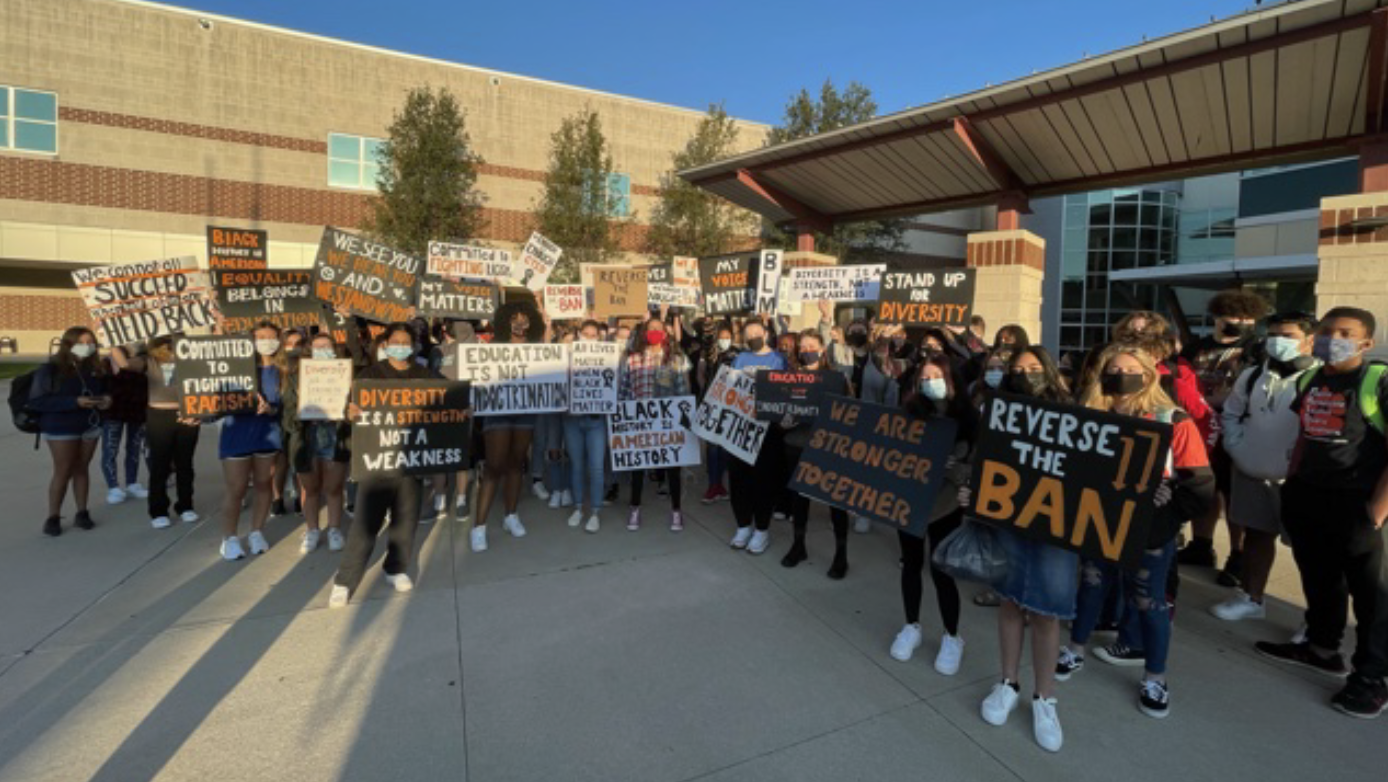 ORIGINS OF A BOOK BAN
In the summer of 2020, in the wake of George Floyd's brutal murder at the hands of police, activists from communities across America protested the police violence and white supremacy upon which our country was built — in what would become the largest sustained protest in American history. Like much of the rest of the country, students and teachers of York, PA entered a new era in which the systemic racism undergirding their daily life would no longer be ignored.
In York, there emerged a brave group of students and teachers who joined together and fought to overturn a ban on anti-racist literature, not only exposing the normalized biases that had long animated student life in the Central York School District, but showing how the power of education and collective action effects a real change — real justice.
That summer, in anticipation of the coming Fall semester, a committee of teachers and diversity specialists shared a four-page list of anti-racist resources and readings with the district's board officials: a list featuring more than 300 suggestions of books, movies, and teaching materials made for instructors at all levels, K through 12. It included easy-to-read chapter books about historical figures like Martin Luther King, Jr. and Rosa Parks. It included children's coloring books, featuring images of the African Adrinkra symbols found in fabrics and pottery. It included I Am Enough, a children's book about fostering self-love at a young age. It even included an Oscar-winning documentary and webinar from a former Central student.
The list itself was not so different from the reading lists of anti-racist literature making the rounds on social media at that time, except unlike those lists, this was not merely a reaction to the summer of activism — but a guide created by a committee that had long been working to help the school district find greater diversity and inclusivity. It was a list borne of movement within the Central York School District that predated the summer of 2020 and included input from students of Central York High School — students who regularly visited with board officials to share their experiences with racism and their hope for greater inclusivity. For the students who participated, the goal, they said, was to help teachers and students educate themselves on historical injustices and make Central York a haven for sensitive discussions.
Despite all this, in a unanimous vote, the school board officials elected to ban this list. Each and every item. The whole list — in which nearly every single resource had been a contribution from an author of color.
Central's administration sent an email on August 11th, 2021, instructing all teachers in the district to refrain from using these materials. The controversy that ensued rocked York and national media descended on the town of less than 50,000 people.
Of course, the Central York School District was far from the only school district in the country to wage war on diversity education. Since the summer of 2020 several laws banning so-called "critical race theory" have cropped up in states across the country, with many Republican legislators claiming that educating students on systemic racism could pose a threat to race relations and make white students feel "guilty."
While those laws prevailed in some states, in the case of Central York, school board officials ultimately failed. Instead, we saw the power of organized expression and democracy in action, as Veronica Gemma, the official who instigated the book ban, ultimately lost her seat on the board in a failed re-election campaign.
But more importantly, we saw a community of students and educators who came together — who learned to fight and to raise their voice for justice. We saw the tireless work of a group of high school students who planned school-wide protests, spoke up about their experiences with racism, and even proposed new diversity curricula to administrators. Their efforts gained international recognition, earned praise from Martin Luther King Jr.'s family, and ultimately reversed the book ban.
THE STORY OF P.A.R.U.
The movement for greater openness and dialogue about diversity and racial inequity is one that had started in earnest in the fall of 2020, predating the protests — and even predating the student body's knowledge about the book ban.
When students returned to school in the fall, they struggled to grapple with the racial injustices that surfaced after a summer of police brutality and ardent activism, noting a building tension. Olivia Pituch, a senior at Central and a student organizer, said there was an underlying sense of student discomfort and reluctance to address racial issues that helped to awaken student activism.
"We [couldn't] have normal conversations about racism anymore in classrooms," Pituch said. "Someone says the word racism and everyone runs out of the room."
In response, a small group of students started the Panther Anti-Racist Union (PARU), which began as a safe place for dialogue and discussion among students from diverse backgrounds and with diverse perspectives. The group was led by the high school theater teacher Ben Hodge and became an avenue for students to speak up about their experiences. Over time, their conversations became a collective groundswell of energy, because, as senior Christina Ellis said, school is "where students learn the importance of inclusion with no questions asked."
Starting in November of 2020, the group took to social media to open the conversation around racial issues in the district and educate peers on crucial aspects of Black History that their curriculum breezed over. That February, they organized a Black History Month poetry contest, and began to regularly meet with the school board to discuss their experiences of racism within the district. They suggested having more cultural heritage days at the elementary school level, increasing representation in all classroom libraries, and implementing a social justice class at the high school. They even went so far as to propose new ways to incorporate a diversity curriculum at Central.
"We knew that Central had this problem of being sensitive to race and educating people about race," said Edha Gupta.
In a Zoom meeting with school board representatives, Gupta described her experiences with racism at school, sharing her vulnerability, hoping to convince them that the district's status quo failed to support students of color.
"There was an overlying skepticism," Gupta said, "but I felt that, at the time, they seemed encouraging."
This goodwill enthusiasm, however, would prove to be fool's gold.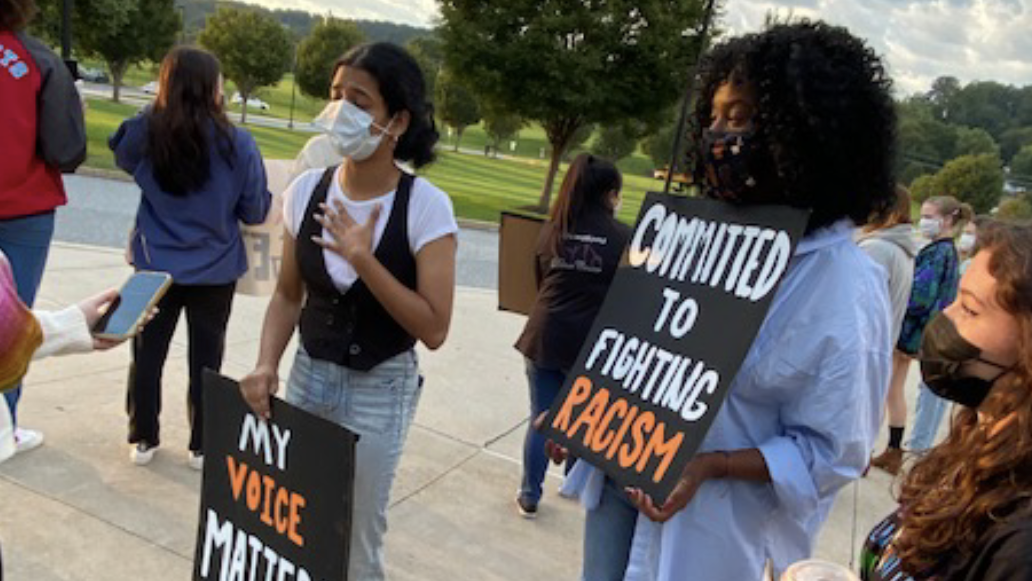 A HOME WITHIN EACH OTHER
For the students of PARU, the news about the book ban arrived like a slap in the face.
The following school year, on September 1st, 2021, news about the ban began circulating after an article in the The York Dispatch quoted teachers who received an email from the high school's principal forbidding the use of the anti-racist texts and materials.
Renee Ellis, a senior at Central York High School and member of PARU, remembers the day clearly.
"We were off from school that day because we were supposed to have really bad flooding. I was just trying to get work done," she said. "And then all of a sudden, my sister was coming down the stairs. She's like, "I can't believe they just did this! I can't believe they just did this!"
In one breathtaking sweep of intolerance, school board officials banned an extensive list of books and resources, from basic books about African-American history to children's coloring books celebrating difference and diversity.
"It was one of those moments where you couldn't really believe what you're hearing or what you're seeing," Ellis said. "It was the initial shock, like you cannot believe that your school will do something like that."
Olivia Pituch said she was "infuriated."
"We went straight to Mr. Hodge, and were like, what are you going to do about it?" Pituch said. "He turned it right back on us and asked what we were going to do about it."
Soon, the group mobilized. With the guidance of Central teachers, Ben Hodge and Patricia Jackson, PARU members began planning their first before-school protest. They were determined to keep the protests as controlled and positive as possible, avoiding any disruption to the school day.
On the day of their first protest, PARU members got to school before sunrise, carrying piles of posters they had painted earlier in the week. They made dozens of extra posters for students to hold, with phrases like, "diversity is a strength, not a weakness" and "Black History is American History." Then, they stood around the flagpole, anxiously waiting for their peers to join them.
"We were expecting like five people to show up," Gupta said.
Instead, more than 50 of their peers joined in, standing in allyship. For weeks, they would stand with their posters and chant, catching the attention of students, teachers, and administrators as they walked into school each morning.
With a mix of righteous indignation and giddy optimism, students said they were sure it would just be a matter of time before the ban would be reversed.
But a week after protests began, there was a significant setback: Central York sent out an email reinforcing the banned book list.
The students of PARU were heartbroken. They felt helpless. That day, Gupta dragged her feet down to Ms. Jackson's room. She couldn't hold back her tears — she was minutes away from giving up on protesting all together.
"I was full on sobbing into my hands," Gupta said.
But her teacher's support inspired her to keep moving forward. In her moment of despair, Gupta said, Ms. Jackson's presence was everything.
"I felt so loved, so supported."
At their lowest point, the members of PARU found a home within each other, with Mr. Hodge and Ms. Jackson being the glue binding them together. "They've really been rocking with us for a long time," Renee Ellis said.
And so, PARU continued their before-school protests and chanted even louder and fought even harder. Soon, they began to see changes in their community, and in themselves.
A CHORUS FOR CHANGE
At first, many teachers were reticent about offering their opinions on the protests, but Christina Ellis remembers a shift when her social studies teachers asked if she could help in any way.
"I think we started to influence teachers, which is really important. They are the ones educating us," Ellis said. "They are the people who are supposed to help support and lift up our foundation."
With a growing number of teachers by their side, the students continued waking up early before school, ready to protest. Echoes of the protests began to swarm York county; everyone seemed to be talking about it. Their number of supporters grew each day, first drawing attention from local news reporters, and soon national news publications like CNN, Washington Post, and The New York Times.
Martin Luther King Jr.'s daughter also gave the protestors a special shoutout.
"I am grateful for the students from Central York High School," Bernice King tweeted in September. "Thank you to each of you who took a stand."
Within a matter of weeks, the protesters had gained thousands of supporters, locally, nationally, and internationally, ultimately pressuring the school board to reverse the ban of diversity resources on November 9, 2021.
According to an article by ABC News, the president of the board insisted "the whole situation was a misunderstanding," but the members of PARU scoffed at that idea. Until the school implements real change in their curriculum and school culture, PARU cannot see justice served for the racial minority students that make up 30% of their population. But thanks to PARU's advocacy, these paradigm changes are more in reach than ever before.
The election on November 3rd, 2021 brought new faces into the school board, including one of Central's first board representatives of color, Corey Thurman, who will serve a four year term. He received the most votes of any candidate, and has values aligning with those of PARU. After his victory, in an announcement on his Facebook page, he wrote: "This is how you start change."
WHERE ARE WE NOW
The school board is expected to release their official curriculum changes for next school year in the coming months. PARU continues to advocate for a more representative curriculum — Christina Ellis told the Washington Post that she would like to see more focus on African American history. Edha Gupta wants the Asian American history curriculum to surpass the California Gold Rush. (Gupta, by the way, was voted as a 2021 Voice of the Year by Seventeen.) Olivia Pituch longs to break the silence on LGBTQ+ history in schools. And Renee Ellis wishes students would learn more about systematic racism and the importance of local elections.
It is now just a matter of time before Central proves whether or not they uphold these values as well.
On a Zoom call a few months after their hard-fought victory, Christina Ellis spoke about how she knew she had been a part of something extremely important.
"As an activist, you start to see connections — you just get to a point where every aspect of life can be changed in some way," Ellis said. "And it's like a spiral. It's the sacrifice of self to help create a better world."
Despite the exhaustion, frustration, and sacrifices that came with months of activism, moments where the community came together made PARU's relentless fight for diversity education feel worthwhile.
At the end of it all, Gupta always returned to one particular moment in the journey.
PARU had just distributed more than 5,000 copies of the banned diversity resources at a nearby park. As the sun shone down, Gupta stopped in her tracks and watched families swarm the pavilion, eagerly leafing through dozens of boxes of free books.
"I just stood there. And I was like, did we do that?" Gupta said. "With every single minute of turmoil, when you see a community come together like that, it's worth it."
A NOTE FROM THE AUTHOR
As a former student — a 2019 graduate of Central York High School — I was amazed to see these students fight for their education and to fight for a more loving and inclusive learning space. It made me want to learn their story and to learn how they instilled a force for change, something that was so evidently lacking during my time at Central.
Although I am not a person of color, I was disgusted by the blatant racism I observed throughout my years in York. In the hallways of my school, I'd hear other white students constantly use derogatory and inflammatory words like ghetto, ratchet, and the n word with no repercussions. And my own American History teacher once argued that racism hasn't existed in any severe form since the abolition of slavery, saying: "When people today say that racism is bad, I ask them "compared to what?""
When I attended Central York, there were no outlets for students with diverse backgrounds  to voice their grievances or to become involved in activism. That changed after the year of 2020.
When the book ban grabbed national headlines, I was amazed as I watched afar to see protests in the streets of York, to see students waving their signs on the school's front lawn, to hear about the hundred-plus people clamoring outside of school board meetings. And, as an education student at the University of Pittsburgh, I was enthralled to see students and teachers banding together to fight for the right of a just education, an education indicative of the real history of the United States, including the crucial stories and histories of Indigeounous peoples and people of color.
The education system is undeniably a microcosm of society at large, and this movement reminded me just how crucial my responsibility as a future educator will be as an agent of change and activism. It also gave me hope for the possibility of progress both in the system, and in our country.
To learn how my high school found its voice — how students unified to make this change — I spent time on several Zoom interviews with four student leaders and two faculty members who helped to organize against the ban, and I learned that their efforts reflected a loving community of students and educators teaming together to create a better world.
Delphie Backs is a staff writer for Sampsonia Way Magazine.