Poetry inspired by Injustice (1941), a mural by Maxo Vanka at St. Nicholas Catholic Church in Millvale, Pennsylvania. Editor's Note: The contents of this poem include graphic reference to domestic violence and sexual assault.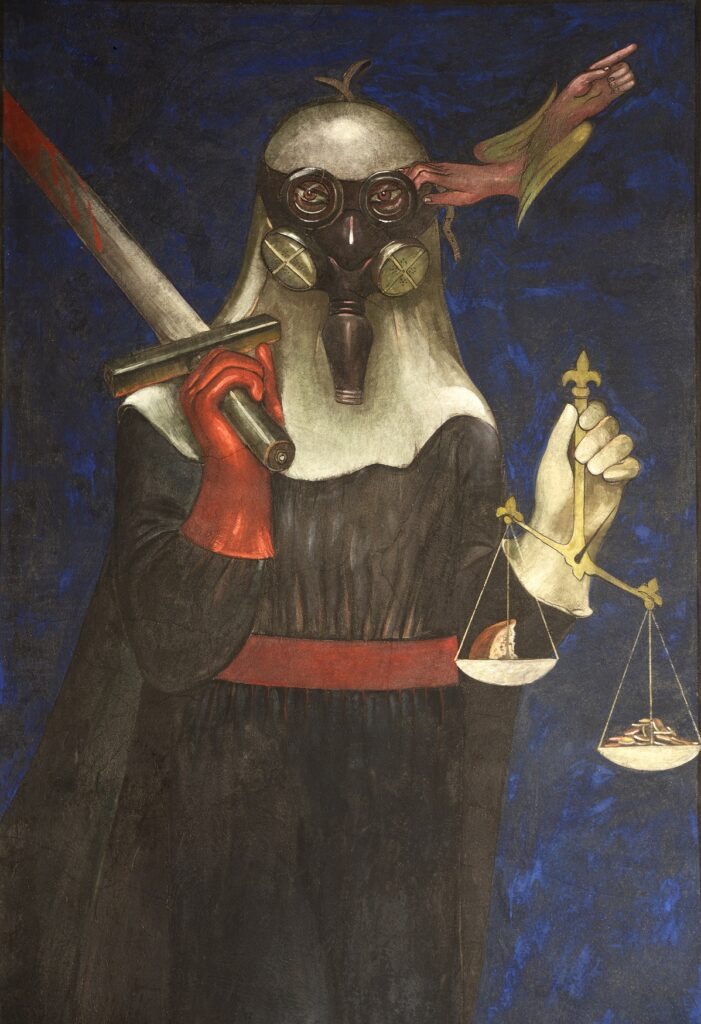 How Dare I?
I was wearing a yellow blouse 
The streets were hot and swimming with yellow
Our shouting throats filled with a chant
Our voices smacked the sky,
FREEDOM… PEACE… and JUSTICE
We were dreamers, filled with hope
I was a dreamer, radiating strength.

Police shot tear gas at us
We were suffocated but didn't scatter
An old man fell down,
My friend and I ran towards him
He threw the old man over his shoulder and ran away.
The policemen attacked me
They were men, too many, too many, I couldn't even count them
They struck me with batons
on all sides: front, back, right, left, on my head.
They harassed me, one of them squeezed my breast.
They threatened to rape me,
and when I refused to get into the car, they dragged me
barefoot on the rough dust.
They caught me by my hands,
and dragged me like a sacrificial sheep!

The earth was so bright, so hot, but it was loving.
They said: I went out against the governor, I shouldn't protest
They hit me, threw me in jail, and then judged me.

My friends, when they saw me bloodied, barefoot and red-eyed,
they cried!
And you,
You shouted very angrily: How dare you?
How dare you publish a picture of your arm on the internet? How dare you? You are my wife, you are mine!
At that moment
I was gutted!
I was strong, lucid, and solid like a diamond, but
you got angry that I published one picture of my arm showing the bruises,
but there were many more on every inch of my body.
You only saw yourself, you only saw that I am your wife, yours!
Your shoe.

At that moment, I was gutted!
Every cell inside me screamed.
I felt my neighbor's oppression when her husband prevented her from going out
I felt my friend's grief when her brother forbade her from writing
and my cousin's when her father prevented her from studying.
I felt the pain of all women, just
for being born women!

I endured the hitting, the ache, and the pain, but
I couldn't bear the betrayal!  
And,
my mother hugged me!
I felt her loving entirely, like the yellow bright earth
that they dragged me on.
                                                                — October 2019

RaMa is a journalist and novelist from Sudan and a writer-in-residence at City of Asylum.