Photo DOC: Viewing Immigration Through a New Lens with Jose Muniain
April 15 @ 3:00 pm

-

4:30 pm

EDT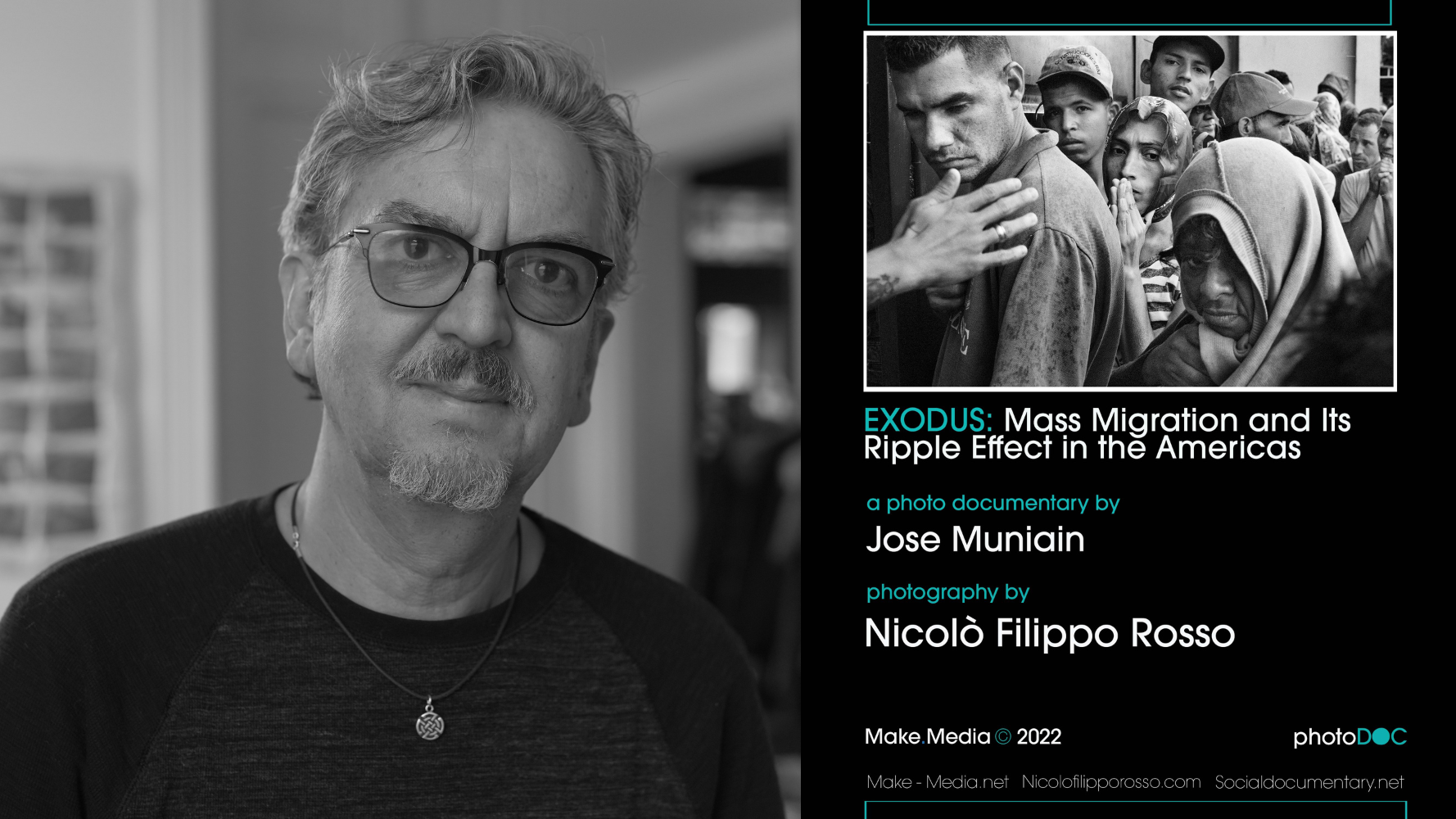 This program features a screening of EXODUS: Mass Migration and the Ripple Effect in the Americas, a series of three short photo documentaries based on Italian photographer Nicolò Filippo Rosso's work, directed and produced by Jose Muniain.
This screening is followed by an audience Q&A and a discussion between Jose Muniain and Casa San José. 
About the Photographer:
Nicoló Filippo Rosso (b.1985) is an Italian documentary photographer living between South, Central, and North America. Witnessing stories of trauma, inequality, and injustices that have shattered the region for generations, he chose to tell stories of abandoned communities and mass migration on the tens of thousands fleeing Central American countries from violence, climate change, and economic collapse. Since 2018, he has been documenting the migration movements across the continent for his project EXODUS. In 2021, he received the W. Eugene Smith Memorial Award for Humanistic Photography. Recognitions to his work include the Getty Editorial Grant, World Press Photo, International Photography Award, World Report Award, Premio Ponchielli, Prix ANI-PixTrack. Nicoló is a regular contributor at Bloomberg News, The Washington Post, and The United Nations Refugee Agency (UNHCR).
About the Director:
Jose Muniain is originally from Bilbao, Spain but for the last 25 years has been based in Pittsburgh, Pennsylvania and has worked as a director and producer on a range of national and international projects. Jose's professional path in Europe and the US has always fluctuated between commercial and independent projects, both of which have received international awards. For independent films, Jose looks for collaboration with artists who work in different mediums, seeking to be challenged both as a director and as a viewer. Jose is particularly drawn to projects that explore the creative process and focus on issues of social justice. In 2006 Jose produced and directed the feature-length conceptual documentary An Independent Portrait, which deals with the creative process and focuses on painter Felix de la Concha and filmmaker Robert Young; the documentary received the Audience Choice Award at the Three Rivers Film Festival. Jose has also received recognition for other short films, including #Cake (2017), which deals with the issues of eviction and mental health, and Garbage (2019), a film about race in the U.S., which was shown at the New York City Independent Film Festival and won awards at the Portland Short Festival, the Miami Independent Film Festival, and the Cortada International Film Festival in Spain.
Photo Documentary credits
Producer / Director / Editor: Jose Muniain @ Make.Media
Photographer: Nicolò Filippo Rosso
Cinematographer/DP: Mark Knobil
Music: Cy Williams
Location Sound: Felipe García-Huidobro
Additional photography: Joe Seamans
Studio: Craig Thompson Photography
About Casa San José:
Casa San José connects, supports, and advocates with and for the Latino community. The Sisters of St. Joseph of Baden opened a resource center for Latino immigrants, Casa San José (House of St. Joseph), in 2013. It serves as a base of support for English language learners, helping them to access services – especially, services for children, youth, and families – in order to better acclimate to their new home in the Pittsburgh area and to know the experience of welcome here. The Sisters created Casa San José as an independent nonprofit with an independent board of directors in 2014. It now has a staff of 24 people, three Sisters of St. Joseph, and more than a 100 active volunteers. 
About Your Visit: 
The in-house restaurant 40 North will be closed.
Want to follow news about the Exiled Writer and Artist Residency Program at City of Asylum? Sign up for our email list to receive news updates, information about our upcoming programs, and more!