House Publication Block Party
November 21, 2021 @ 3:00 pm

-

5:00 pm

EST

Free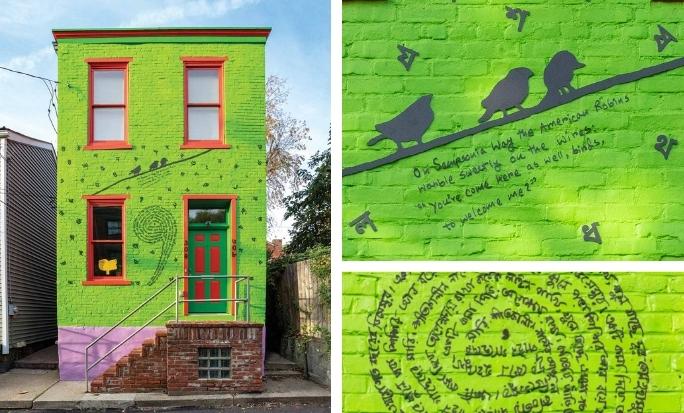 We just finished our fifth "house publication"—the writer houses with artworks on their façades. This House Publication is based on texts and drawings by City of Asylum's writer-in-residence Tuhin Das. He worked closely with co-founder Diane Samuels, who has led the development of the house publications.
We will inaugurate this new House Publication on Sunday, November 21st from 3-5 PM with a poetry reading and discussion by Tuhin. Share a cup of hot chocolate with us as we listen live to Tuhin (3:15 and 4:00 PM). We hope that you will join and us to celebrate.
Registration is not required. Just drop by! The event is outdoors—rain or shine—in front of 308 Sampsonia Way.
Standing room only (we will have a very limited number of chairs available*). 
*At City of Asylum, we want our events to be welcoming and accessible to all people. Our program is wheelchair accessible. If you have questions or are in need of accommodations, please email: contact@cityofasylumpittsburgh.org.
Sampsonia Way will be temporarily closed to traffic from the corner of Sampsonia Way and Sherman Avenue through 330 Sampsonia Way on Sunday, November 21, 2021 from 2:30-5:00 PM.
Safe and convenient parking is available at the Federal North Garage (1307 Federal Street) located on Federal Street behind the Masonic Building. The event is is located at @ 308 Sampsonia Way. It's a few blocks from our venue, Alphabet City, and is located on the alley with our other House Publications. Or you can find street parking in the blocks surrounding Sampsonia Way.
Tuhin Das is a Bengali poet, activist, political columnist, short story writer and essayist. His work is widely published in Bangladesh and West Bengal, India. He is the author of eight poetry books in his native language. His full-length, unpublished manuscript Exile Poems focuses on his life as an exiled writer.
Das' work appeared in or is forthcoming from The Logue Project's Home Language, Words without Borders, The Bare Life Review, and "Where Am i From?" The WAiF project. 
Since 2013, he has been the target of fundamentalist militant groups who have murdered secular writers and activists in Bangladesh. Instead of protecting him, the police collected and examined his writings for anti-Islamist statements to use against him. In order to save his own life, he had no choice but to go into hiding and find a way out of Bangladesh. He left his country in April 2016. Tuhin Das is now an ICORN writer-in-residence of City of Asylum in Pittsburgh.
The letters in the text and art on the house are made in aluminum and were cut locally by Hydro-Lazer from Tuhin's design.  Painting and installation of the work was done by Tom Herman.  Funding for the project was provided by the Urban Redevelopment Authority of Pittsburgh.
Want to follow news about the Exiled Writer and Artist Residency Program at City of Asylum? Sign up for our email list to receive news updates, information about our upcoming programs, and more!